Prefab Quartz and Natural Stones are both popular choices for countertops, backsplashes, bathrooms and more. Their names are similar, and are sometimes (incorrectly) used interchangeably. But even aside from the names, there's a lot of confusion about these materials. Here's a quick and handy reference for understanding why we recommend Quartz as your choice for the Countertops and Islands.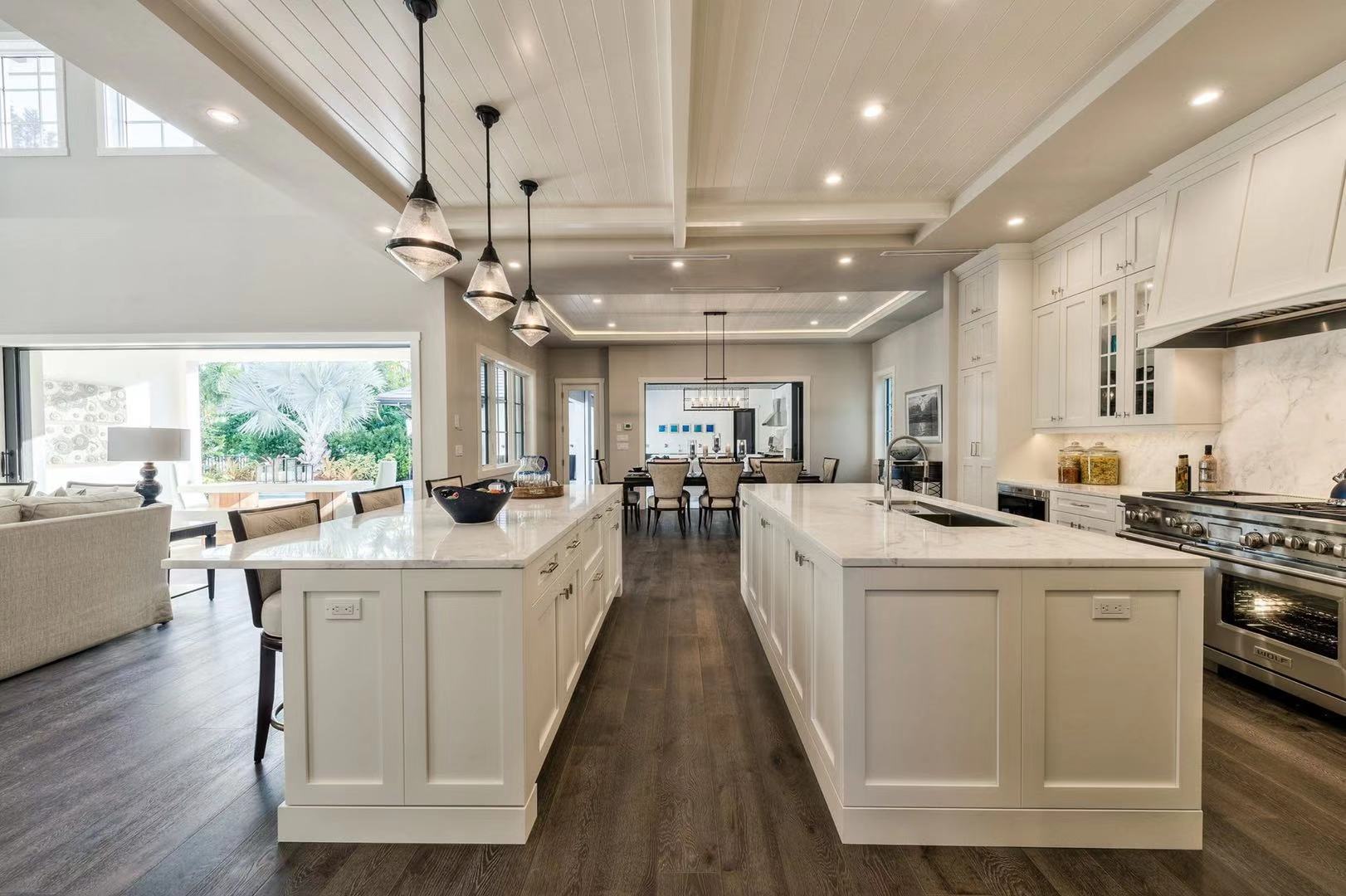 ---
How Are Quartz Countertops Made?
Have you ever wondered how quartz countertops are made? The process is actually very interesting. Quartz minerals are mined and then they are ground into an aggregate that is later fused with resin that binds the rock under intense pressure & heat to form a beautiful quartz slab. During the process of imparting color to the countertop, pigments are added to give it a unique and beautiful aesthetic.
---
Quartz Countertop Cost
If you are a builder, homeowner, or contractor and are looking to purchase quartz countertops for your property then you should keep in mind that you may end up paying just about the same amount as you would for natural stone.
---
How Long Will They Last?
Since quartz is one of the most durable minerals on the planet, you can bet that your quartz countertops will have a very long lifespan as long as you take good care of them. You must take into account that where you buy them also is a determining factor into how long your quartz countertops will last. Your countertops can last you a lifetime as long as you buy them from a reputable supplier like ECS and if you take good care of them.
---
Quartz Countertop Care
Not like wood or natural stone, quartz countertops do not need to be sealed, ever. All you have to do is grab a towel or cloth and dampen it in soapy water then wipe the surface off. If you see that your countertop has stains then remove them using a gentle cleansing scrub. Steer away from using scouring pads because they can dull the countertop surface. You also want to stay away from chemicals that are too hard because they can potentially break down the bonds between the resins and quartz.
---
Comparing with Natural Stone countertops,why Quartz countertop is better?
Here are more benefits of quartz countertops to people who've selected them for their homes.
Quartz countertop has a wide variety of colors and patterns that show up are 100% synthetic.


Quartz countertops are made up of crushed quartz mixed with resin in a ratio of 93% quartz material to 7% resin binder and color additives.


They are manufactured in a variety of different patterns and colors. This gives you alot more options for both monotone textures or colors that have more variation.


Quartz may look like they're straight from Mother Nature—and that's the idea—yet, quartz is actually crushed and customarily blended with resin or some other kind of binding agent. The finished stone appears to be rich.


Many people are encouraged by the fact that quartz countertops don't require any maintenance. One of the biggest benefits that quartz has is it doesn't need to be sealed and it's stainless. Quartz countertops can handle oil, tomato, wine, coffee, juice and many other stainable products.


Quartz Is Easier to Keep Germ-Free: Because quartz is an engineered product, it is non-porous. Granite, slate and other natural stones do have pores and tiny capillaries within the minerals. Those natural structures wick up liquid, and as we've mentioned, staining can be the result. There's more: those pores and capillaries also harbor germs such as bacteria and viruses.


It may be hard to believe, but quartz is heftier than granite—and that's saying a lot! When you're looking at which one chips easier, quartz is a bit more flexible so it's the stronger of the two.


These countertops are human-made.
---
Any Further Concerns?
For more related content be sure to check out our blog. If you would like to speak with a professional quartz countertop professional, contact us by calling (626) 877-9288.